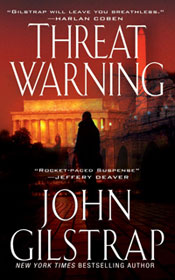 Alright ladies and gentlemen, I'm going to ask you to help out a friend of mine and go buy his book, ebook and/or audiobook!
John Gilstrap's newest Jonathan Grave novel is out and your's truly had the privilege of narrating the audiobook version for Audible.com. It is a good story. Fast paced, action packed, even funny at times. Well hey, instead of me blabbing, check out the jacket copy:
In his most terrifying thriller yet, New York Times bestselling author John Gilstrap exposes the darkest threat to America's freedom, a secret society of merciless killers, watching and waiting to strike. The first victims are random: ordinary citizens, fired upon at rush hour by unseen assassins. Caught in the crossfire of one of the attacks, hostage rescue specialist Jonathan Grave spies a gunman getting away—with a mother and her son as hostages. To free them, Grave and his team must enter the dark heart of a nationwide conspiracy. But their search goes beyond the frenzied schemes of a madman's deadly ambitions. This time, it reaches all the way to the highest levels of power...
See...I told you!
Get it the audiobook on
Audible.com
or pick up the ebook or paperback at
Amazon.com
today!
Sphere: Related Content